Historically, we have been taught that  for health benefits you need anywhere from 40-60 minutes of exercise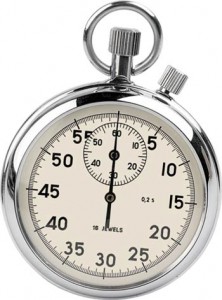 most days of the week.  This changed a bit to say that it does not have to be formal exercise but any type of "physical activity" that gets your heart rate going.  Well, there seems to be another change developing.  Some researchers have published studies that suggest that if you exercise for 1 minute at 80% of your maximal heart rate (220 minus your age), rest for a minute, and then repeat this for a total of 10, 1 minute sessions, that this is equivalent to working out for 40 minutes.  This is really good news, especially for those who find it hard to get in 40 minutes of exercise in the course of the day.  This was talked about in a recent New York Times article.  Its called High Intensity Interval Training (HIIT).
Hearing (reading) this info, I decided to take this a little further.  Knowing other research that states that your don't have to do your exercise (40 minutes) all at one time, I wondered what would be the benefits of exercising for 1 minute per hour over the course of the work day.  I tried it one day, only doing 3 sessions (my legs were hurting too much from the dynamic squats which was my chosen exercise), and I think there is great potential.  I could do this in my work clothes, did not sweat, and the brief mental break helped me maintain focus on my work.  This strategy could also be of benefit for all of the women that have trouble working out because of concerns for their hair.
I am going to stick with this strategy until my legs build up for me to tolerate the activity over the course of the day, and report back.  For those reading this, why don't you give it a try and let me know what happens.  Of course those who have concern for their heart need to start an exercise program gradually.  Also, its always a good idea to share such plans with your doctor.